Flexcushion® Featured in Monthly Sumo Magazine
Flexcushion® developer Sakata was featured in the May 25th issue of the monthly magazine "Sumo," a Baseball Magazine Company publication, summarizing the summer sumo tournament.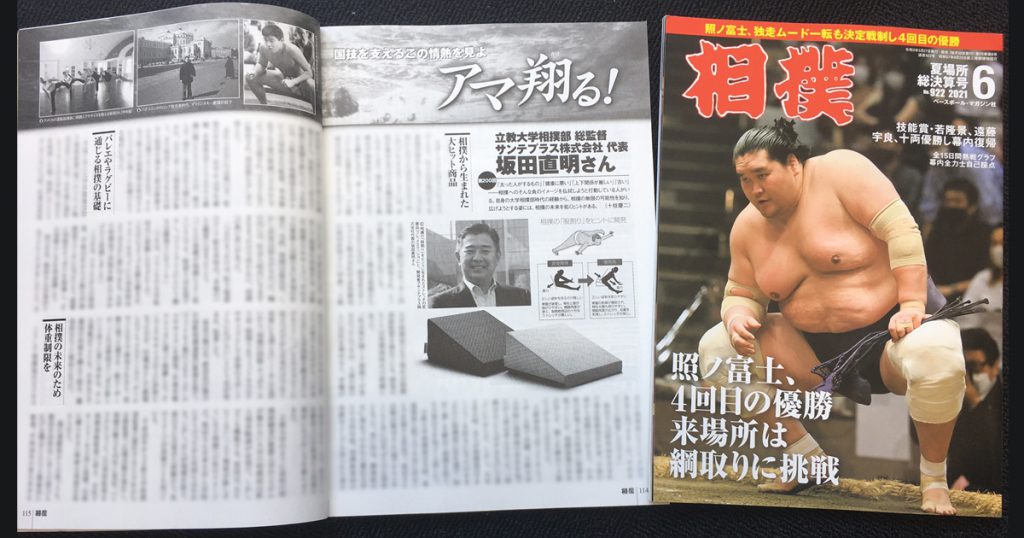 He appeared in the 200th memorable installment of the famous corner "Amateur Sumo Flying."
The article covered Sakata's time at Rikkyo University's sumo club, SUMO EXERCISE, Flexcushion, and his private reform proposals for increasing the sumo population, spanning three pages. Heartfelt thanks to journalist Keiji Toeda of "Sumo" and everyone involved with Rikkyo University's sumo club.
Please check out the latest issue of Monthly Sumo at bookstores!
Profile of Nao Sakata
Since joining the Rikkyo University sumo club, Nao Sakata has taken on roles as a coach, director, and general director. Sakata's journey with the club has been one of significant learning and camaraderie, contributing to an enriching experience.
It was from sumo's 'matowari' exercise that the idea for Flexcushion® was conceived. Sakata holds a deep affection for sumo, aspiring to see the sport evolve from merely being viewed to becoming widely participated in. In this spirit, Sakata urges support for the Rikkyo University Sumo Club and encourages those who know Rikkyo students or high school students to recommend the club, fostering its growth and influence in the world of sumo.
Our Products
Flexcushion®
Effectively stretch by aligning your pelvis!
KabukiGlasses®
The Ultimate Theatre & Sports Binoculars