Our Products

Name
Flexcushion® (FC-A402)
Jump To The Exercise Page »
Color
Black / Beige / Pearl White
Size
2.55 lbs (= 1.15kg)
Height: 2 inches (= 5cm) to 8 inches (= 20cm)
Width & Depth: 16 inches (= 40cm)
Retail Price
$139.95 (USD)
Patent
#7966679 (US registered, and internationally pending)

Order Now!
Official Gear for "Sumo Core Exercise"(SANTEPLUS 2006, Recommended by International Sumo Federation)
Recommended by NPO Japan Stretching Association
Exhibited at IHRSA 2008 / NSCA SSTC 2009/ Inner IDEA 2009 / PBATS 2010 / NATA 2010 / IDEA World Fitness 2010
How was the Flexcushion Born?
Derived from MATAWARI Stretch of Japan's Martial Art "Sumo"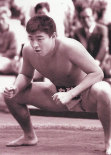 Our President & Founder, Nao SAKATA, when he was a member of the Sumo Team at Rikkyo University, had difficulty with Sumo's MATAWARI (splits) training, which was essential for Sumo. Later, he found it easier to stretch when he sat on the Dohyo, a straw bag (5cm / 2 inches high), which is now the front height of the Flexcushion. With advice from Professor Hideo NUMAZAWA (Rikkyo University), Nao SAKATA developed the Flexcushion.
Who uses the Flexcushion?
Top Athletes and Teams in Baseball / Soccer / Football / Golf /Track & Field / Syncho / Volleyball / Tennis / Basketball / Fencing / Ski / Judo / Sumo / Numerous Health & Fitness Clubs / Pilates Studios / Yoga Studios / Ballet Studios / Dancers / Strength Coaches / Athletic Trainers / PT / Hospitals / Clinics
See the detail at our corporate page "www.flexcushion.com/about" Stretch & Exercise
DVD-Video "Stetch & Exercise with Flexcushion®" (25 min.)
Supervised by Dr. Donald A. Chu
25 minutes Stretch & Exercise, easy to workout at home
Produced by SANTEPLUS 2009
DVD-Video "Stretch & Exercise" with Flexcushion
Produced by
SANTEPLUS
Dr. Donald A. CHU (PhD, PT, ATC, CSCS, NSCA-CPT, Director of Athercare Fitness & Rehabilitation)
Supervised by
Hideo NUMAZAWA (Professor at Rikkyo University, School of Sports & Wellness)
Yoshihito NAGAHATA (Director, NPO Japan Stretching Association)
Lisa Yumi Michelle (Actress & Model) Kayoko YAMAMOTO (Professional Trainer)
Demonstrator
Sayaka SHIMAMOTO (Model)

Name
FlexBarrel® (Whale) (FB-A660)
FlexBarrel (Whale) Pilates »
FlexBarrel (Whale) Atheletes »
Color
Black / Pearl White
Size
5.8 lbs (= 2.6kg)
Height: 4 inches (=10cm) to 10 inches (= 24cm)
Width 27 inch (= 67cm), Depth 16 inches (= 40cm)
Retail Price
$299.95 (USD)
Patent
Design Patent #1502197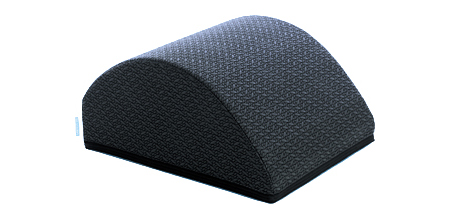 Name
FlexBarrel® (Arch)
Hip Thrust with FlexBarrel (Arch) »
Color
Black
Size
4.3 lbs (= 1.95kg)
Length 20 inch (= 50cm)
Width 16 inches (= 40cm)
Height: 10 inches (=24cm)
Retail Price
$249.95 (USD)
Patent
Trademark #5583928