SHIKO
Sumo's Fundamental Perfected Exercise
Pilates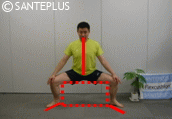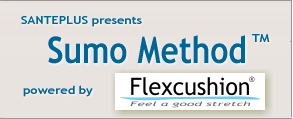 by Nao Sakata (Former Head Coach of Rikkyo University Sumo Team / Inventor of Flexcushion)
SHIKO Level 1 for beginners
Easier if your narrow the distance between your feet.
SHIKO Level 2
Widen the distance between your feet, and this is the style Sumo Wrestlers normally do.
Basic Postures for Sumo Exercise
Before starting SHIKO exercise, warm-up yourself by stretching around pelvis & hip! cf) Recommended stretching down below this page
Try to do SHIKO exercise regularly Ex) 10-20 times a day.
A

Feet,45-50 degrees open.
Some space between heels.
Weight on roots & balls of thumbs

B

Athletic position
Knee & toe face same direction
Relax your upper body, place hands on knees
Armpit closed

C

Looking from side...

Spince vertical on pelvic
Squeez your abdomen
Pull your chin
Look ahead 3m

(Note) Inncorrect posture

Not athletic position... Spine rounded
Spince not vertical on pelvis
Tension on upper body
SHIKO the fundamental Sumo Training
CONCEPT Gain more flexibility around hip-joint by moving pelvis forward & backward. Do the workouts in the bellow order.
(1) "Bigger muscle first" (such as adductor muscle, hamstrings...)
(2) "Smaller muscle second"
1

BASIC POSITION

Make a rectangle
Pull your chin, look ahead 3m
Toes 45-50 degrees open

2

Shift weight on povit foot
Extend your knee of pivot leg
Naturally the other leg goes up *INHALING

*Do NOT lift your leg.

3

Extend pivot knee, and naturally the other leg rises. Spine always straight.

4

【CUES】

Extend yr knee of pivot side
Stop at the top for 1 second
Spine always straight
It is OK that the knee of The rising leg is bent

5

Exhaling, landing from toe, slipping 5cm outside

6

Back to BASIC POSITION

Then, the other side.
one time left, one time rigtht, and repeat left and right
Recommended = about 20 to 30 times a day.
Recommended Stretching as Warm-up
CONCEPT 15 minutes basic workouts. Easy stretch workouts. Even while watching TV, you can do it.
Flexcushion®

Stretch Easily and Effectively!

1

2

Hamstring Stretch *exhale when bending

3

To right & left *exhale when bending
Main Users
Health Clubs, Pilates Studios・16 Professional Baseball Teams + over 250 players, 15 Professional Soccer Teams, Olympic Sprinters, Hammer Throwers, Synchronized Swim Teams, Figure & Speed Skaters, Judo & Karate Dojos, Golfers, Track & Field Teams, PerformBetter, Medco Sports Medicine, Dr. Don Chu's Athercare Fitness & Rehabilitation, Mike Boyle's MBSC, Yoga Studios, Professional Athletes (Football, Basketball, Hockey, Ski, etc.)